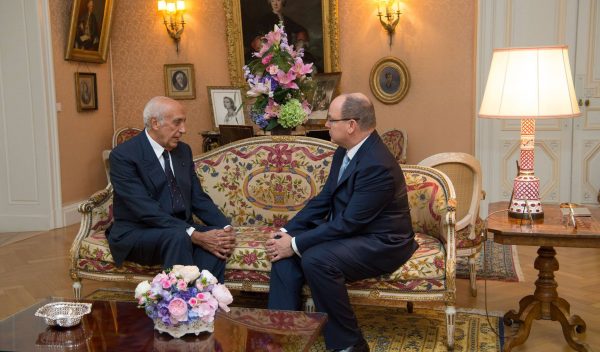 Numerous and fruitful relations have existed between the Principality of Monaco and the Order of Malta over the centuries; many members of the Grimaldi family have been admitted to the Order since the sixteenth century.
The official relations between the Sovereign Order of Malta and the Principality of Monaco began in 1957. Diplomatic relations have been established in 2007.
The first Ambassador was HE Peter K. Murphy, who remained in charge until December 2016 when Umberto Di Capua was appointed Ambassador.
The Principality of Monaco presents a rather peculiar situation as far as diplomatic relations. There are only three resident Ambassadors representing France, Italy, and the Order of Malta. All other countries that have diplomatic relations with Monaco are represented by resident Consuls.
The Consuls have created an Association called ACHM of which the Ambassador of the Order of Malta is an honorary member.
In 2012, a framework agreement was signed between the Government of the Principality of Monaco and the Sovereign Order of Malta. It ensured the coordination of the efforts that see both realities engaged in humanitarian aid and development promotion programs in many countries of the world.
In this context, the mutual effort of the two countries varies from humanitarian assistance to African migrants in the Strait of Sicily, to carrying out delicate cardiac operations in the Cardio-Surgical Center of Monaco.
The Ambassador is strongly committed to implementing the contents of the framework agreement working in close contact with the Cooperation Department of the Ministry of Foreign Affairs.
Since 2016, two humanitarian projects have been initiated from the Order and Monaco Cooperation, one in Lebanon and one in Senegal, while others will follow. Those projects are presently implemented with the participation of the Lebanese and the French Associations of the Order.
Every year the Embassy celebrates the "National Day" on June 24, for the Feast of St. John the Baptist, Patron of the Order of Malta. On this occasion, the most important governmental authorities of the Principality are invited to participate in the event.
Moreover, the Order regularly takes part in the religious processions celebrated by the HERme. the Archbishop of the Principality.
The National Association of the members of the Order of Malta has been operating in the Principality since 1974. Its first president was Messrs. Gabriel Olivier, who was succeeded in office by Joseph Fissore, Prince Louis de Polignac, François de Monseignat, Jean Fissore, René Croési. Jean Kerwat is the current President.
The Monegasque Association is currently made up of 31 members, including HSH Prince Albert II of Monaco, Bailli Chevalier Grand-Croix d'Honneur et de Devotion.